MIKE COOPER
"No holds barred" - Boston Globe
"Mike Cooper writes so convincingly about crime I'm amazed there isn't a warrant out for his arrest!" -- Owen Laukkanen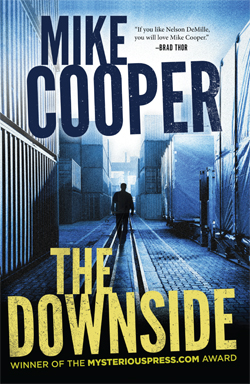 Preorder Now
Winner of the first-ever Mysterious Press Award, The Downside will be released Sep 5th.
In an age of cybercrime, Finn is the last hardhat.
Just out of prison and flat broke, Finn lines up his biggest job ever. Cracking the most heavily guarded private vault in North America? -- no problem. Hauling $50 million of precious metal out past guards, two police departments and an armored SWAT battalion? -- it's payday, dude.
But navigating the betrayals of double-crossing partners, the machinations of a hedge-fund billionaire gone bad, and the ambiguous proposals of a woman with her own agenda ...
Finn has only begun to figure out the downside.
The Downside is a sharp, funny thriller about a gang of blue-collar knuckleheads who decide the one percent owes them a share.
"Couldn't put it down, can't wait for the next one" -- Nick Petrie, bestselling author of THE DRIFTER